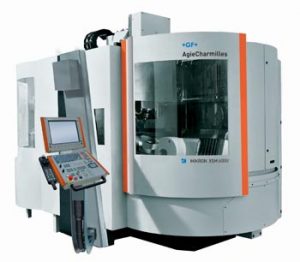 AgieCharmilles MIKRON HSM 600U– This is one of our high-speed milling centers supporting cut speeds of more than 40'000 min, high feed rates and the best accelerations available – especially in the case of small milling cutter diameters for tool and mold manufacturing. The basic structural design of this machine that allows high speed machining includes high speed spindles, control system, feed drives, axis mechanism and automation of Mikron's HSM range.
Deckel Maho DMU P 5 Axis– This is our high speed 5 axis milling center with five sided machining capabilities. Travel of 23.6″in X , 21.7 in Y and 27.6 in the Z axis. This machine is equipped with thru the spindle high pressure coolant for deep hole drilling and has a horizontal as well as a vertical head with a change over time of five seconds. It has feed rates up to 393.7 ipm a rapid of 944 ipm, 12,000 rpm speed range and a 30 magazine tool changer. This machine is also equipped with glass scales for very accurate linear and rotary positioning.
Amera Seiki VB-5 – This large capacity mill allows us to machine parts up to 17′ long and 6 1/2 feet wide. Longitudinal (X) 179", Cross (Y) 79",  Headstock (Z) 37", Spindle Nose To Table 2"-37". This machine was used to manufacture the wing layup molds for the F-35 Fighter. Table has 25 feet of travel.
Doosan Puma 2600 SY- This machine is a live tooling lathe, which allows for Both turning and milling/drilling operations in the same machine. This is one of our newest machines that gives us great flexibility as well as fast turn around on parts requiring multiple operations.
Doosan DNM 500– High-speed parts machining center with high rigidity, high-speed spindle directly coupled with the belt and motor. Machine has 40 inch X axis travel,  21 inch Y axis travel,  20 inch Z axis travel. Also has programmable rotary 4th axis for.
Doosan DNM750L- High power spindle of 50-taper structure is adopted for heavy cutting
Direct-drive type 12000 r/min spindle ensures high precision cutting  Roller-type LM guides applied to all the axes support high precision rapid. Capacity is 30″ x 85″. Has a programmable rotary 4th axis.
Milltronics VM20 – This machining center offers high feed rates and rapids with travels of 40″ x 20″ x 24″. Key capabilities include: Automatic lubrication, Spindle cartridge cooling system, Spindle to 15,000 RPM, AC Yaskawa digital servos, 5 bearing spindle with air-purge seal, Inverted rail design in X axis, Fully ground machine table with 5 T-slots, 1000 IPM X, Y, Z rapid traverse, Fully ground double anchored ball screws, High speed Centurion control.
Milltronics VM22 – This machining center offer heavy duty ribbed castings, tough chip pan enclosure and the Milltronics Centurion control. It has 40″ x 22″ x 24″ travel.
DOOSAN MV 3016LD – This machining center has 32″ x 16″ x 20″ travel.
PUMA 300 Long Bed – This supports a 300 lb capacity, max machining diameter of 300mm (11.8″), max machining length of 1300mm (51.2″), Travel is 360mm ( 14″) X axis and 1380 mm ( 54.3″)Y axis.
OKUMA LB15 – This is a cnc lathe with LNS Hydrobar bar feeder and a on board cad/cam for ease of programming.
OKUMA LB25 – This is a cnc lathe with on board cad/cam for ease of programming.
OKUMA Inpact LU15 – This is a cnc lathe with on board cad/cam for ease of programming, It has dual turrets for machining ID and OD simultaneously very fast and accurate.
AgieCharmilles Technologies Robofil 240 – 5 axis wire EDM Max workpiece dimensions: 39.37″ x 21.65″ x 8.66″, X/Y/Z Travels:13.77″ x 8.66″ x 8.66″, U/V Travel: 13.77″ x 8.66″; Wire Capability: 004″ to .012″
Agie Charmilles Technologies Robofil 310 – 5 axis wire E.D.M. Maximum Workpiece Size: 33.5″ X 19.7″ X 15.75″ Ht. Maximum Workpiece Weight: 1,100 Lbs, Travels: X Axis: 15.75″; Y Axis 9.85″; U Axis: 15.75″; V Axis:9.85″; Z Axis:15.75″, Taper Angle: 0-30° Wire Diameter: 004″ – .012″
Mitsubishi EDM Sinker – 3 axis Sinker E.D.M. Max Work piece Weight (lbs): 550, Work Tank Internal Dimensions: 27 x 17 x 12, Table Travel (X x Y x Z) 10 x 8 x 10
Acer ASG-164AHD Surface Grinder 
Doall C-916 Saw
Hyd-Mech HSV-205 Saw
As well as various other manual lathes, mills, band saw, etc.